Taking advantage of a government policy to use degraded forest land for rubber plantations in the central highland province of Dak Lak, several businesses have flocked there to exploit protective forests, which has raised concern among local residents.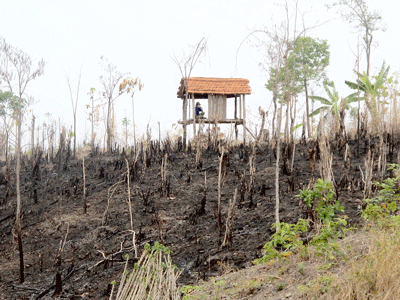 A tract of forest land in Ea Huar Commune, chopped down for planting rubber trees ( Photo: SGGP)
According to reports of relevant agencies in Dak Lak Province, nearly 20,000 hectares of forest land that is poor in nutrients has been converted into rubber plantations.
Phuc Nguyen Construction and Commercial Company had been given management, protection and planting of trees to be used for industrial purposes, such as structural material used for buildings, on 600 hectares in Cu Elang Commune in Ea Kar District and Ea Huar in Buon Don District.
However, the company realised that by planting rubber trees their profits would increase. They then bulldozed and flattened hundreds of hectares of forest land to grow rubber trees.
Similarly, Duc Tam Company has destroyed nearly 850 hectares of forest land while the government allowed for a rubber plantation in only 100 hectares, and the remaining forest land to remain a protective area.
Ya To Mot Commune in Ea Suop District has nearly 60 per cent of 10,000 hectares of land under natural forest. However, most of the forest land lies submerged during the rainy season.
To convert around 2,000 hectares of forest land for agricultural use, Dak Lak Province authorities spent hundreds of billions of Vietnam dong to construct a drainage system.
The project was implemented in 2007 and scheduled to complete in 2013. At the same time with the implementation of the drainage system project, Vinh Hoa Production and Service from the southern province of Tay Ninh submitted a plan for a rubber plantation.
Although the provincial People's Committee agreed to lease 778 hectare of forest land to the company for agricultural use only, the Department of Natural Resources and Environment approved 100 hectares for planting rubber trees and for the company to protect 700 hectares of the remaining as forest land.
In the land lease that was signed in May 6, 2009, it clearly states that the company will be responsible by law if the forest is gutted down.
However, in reality, hundreds of hectares of forest have been chopped down, including tens of hectares of submerged areas for cultivating rice.