Irregularities in granting government Tet welfare payments for the poor have been discovered, with some officials being punished or prosecuted in many provinces.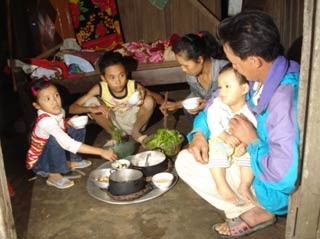 A poor family in Quang Binh province. They received just VND100,000 as a result of the Tet welfare allowance scandal. Many irregularities were found in many provinces. (Photo: CAND)

Provinces where investigations have taken place include: Lam Dong, Gia Lai, Quang Nam, Binh Dinh, Thua Thien-Hue and Ha Tinh.
Le Thanh Nam, an official in charge of social welfare in Da Oai commune, Da Hoai district, Lam Dong province, was found illegally appropriating about VND7 million ($400) from the Tet allowance.
Local authorities have forced Nam to give the money back and apologize to affected households, said Nguyen Xuan Loi, chairman of the Da Hoai People's Committee. 
Earlier, the provincial police arrested Nguyen Van Xuan, a culture official in Tan Thanh commune Duc Trong district, for his alleged appropriation of VND26 million ($1500) that should had been granted to 53 poor families in the commune.
  
In Gia Lai, the provincial Department of Labor, War Invalids and Social Affairs have discovered similar irregularities in five districts: Chu Se, La Grai, Krong Pa, Ayun Pa and La Pa.
Allegations concern misappropriation and granting allowances to the wrong people.  
Similar situations have occurred in Binh Dinh, with many offences uncovered in the mountainous district of Vinh Thanh.
Many beneficiaries in Vinh Son and Vinh Kim communes were given VND400,000 each, despite a difference in poverty levels. The allowance was also granted to households outside the list of beneficiaries.
The provincial authorities have ordered relevant agencies to produce a report concerning irregularities and discrepancies in welfare payments by March 25.
Offences related to Tet welfare payments have also been uncovered in Quang Nam, Ha Tinh and Thua Thien – Hue provinces.
In Ha Tinh, 70 percent of the Tet allowance granted to the wrong people has been recovered, said Nguyen Van Son, director of the provincial Department of Labor, War Invalids and Social Affairs.
In Quang Nam, some 100 households were interviewed and 17 agencies were checked for their involvement in irregularities.
Many illegal actions were also discovered in the city of Hue, said local authorities.
Can Tho City's labor officials dismissed  
For their wrongdoings in granting Tet allowance to the poor people, Diep Van Binh, Chief of the Secretariat of the Can Tho City Labor Federation, and his deputy, Nguyen Nhat Duy, have been dismissed.  
Following a meeting of the Federation held on February 20 to consider disciplinary measures for the two men, Chairman of the Federation, Tran Hong Man, signed decisions to sack them.