The chairman of the Quang Binh Province People's Committee has taken moral responsibility for the fatal ferry accident on the Gianh River last month in which 42 people were killed.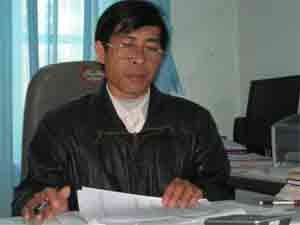 Chairman of Quang Hai Commune People's Commune Doan Xuan Thien
Phan Lam Phuong yesterday wrote to Prime Minister Nguyen Tan Dung owning up responsibility for the lapses in enforcing waterway safety regulations in the province, and offering self-criticism.

He had earlier exhorted Quang Trach District authorities to draw lessons from the accident in operating the ferry.

He ordered them to formally accept responsibility for the accident and determine appropriate disciplinary measures for themselves.

He also ordered the director of the Quang Binh Waterway Management Co. Ltd., which is in charge of regulating transport on the Gianh, to own up his responsibility and said disciplinary action would be taken against him.

Quang Trach District authorities have suspended Doan Xuan Thien, chairman of Quang Hai Commune, where the accident took place.

Mr. Thien has been charged with poor enforcement of safety regulations and faces tough disciplinary action.
Related articles:

Deadly ferry accident: owner faces charges for hiring unlicensed pilot
Ferry accident rescuers hailed for their bravery
Ferry wreck brings mournful atmosphere to commune on Gianh River