Many of the 43 hydropower plant projects in the central province of Quang Nam are fully operational, however none of the project investors have made preparations to cope with a possible dam breach, in case it occurs in future.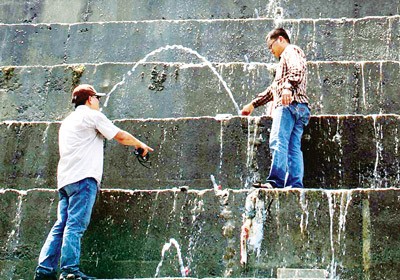 Water leaking from the Song Tranh 2 hydropower plant reservoir dam in Quang Nam Province (Photo: SGGP)
Ten of the hydropower projects have been approved by the Ministry of Industry and Trade with a capacity of over 50MW each along Vu Gia and Thu Bon river banks. Their total capacity is about 1,094MW.
The 33 remaining projects of medium and smaller capacity have been approved and managed by the People's Committee of Quang Nam Province.
Of the ten large projects, three are in operation including A Vuong, Song Tranh 2 and Dak Mi 4.
Towards the end of last year, tremors continuously occurred in Bac Tra My District, where Song Tranh 2 reservoir is located, which has capacity to accumulate up to 730 million cubic metres of water.
Local residents were afraid of a dam breach. Few months later, in late March this year, water was found leaking in large volumes from the plant reservoir dam, worsening the concern.
All hydropower projects have been built on the same river system. If one reservoir bursts, others in the lower reaches miht be swept away as well, threatening hundreds of thousands of residents in Quang Nam Province and Da Nang City.
According to Nguyen Minh Tuan, head of the Irrigation Department and chief officer of the Steering Board for Flood and Storm Prevention in Quang Nam Province, if a dam breaches, districts along Thu Bon River including Bac Tra My, Dai Loc, Duy Xuyen, Dien Ban and Hoi An will be badly affected.
 
Meanwhile, managers and investors of the hydropower plant projects have not paid attention to the threat of a possible dam breach and its impact on low lying areas.
It is not a difficult mission to conduct and should be implemented, Tuan said.
In future, Quang Nam Province will ask investors to present dam breach prevention plans if they want to build a hydropower plant. Based on this plan, the province can prepare to cope with possible problems and evacuate residents.
Le Phuoc Thanh, chairman of the provincial People's Committee said that Quang Nam will work with Military Zone 5 and relevant sides to survey and build a project to deal with the dam breach possibility.
Related articles:
Leaks in control at Song Tranh Hydropower Plant
Cracks on hydropower reservoir not a matter of concern: Gov't
Water leaks from dam worry officials in Quang Nam Province