Twenty years after the first lesser one-horned rhino was discovered in Cat Tien District, Lam Dong Province, no one is able to say how many there are. The task of protecting this critically endangered species will be a big challenge for conservationists in the future.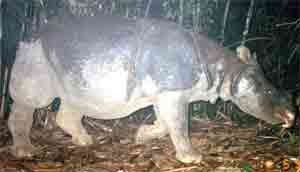 The rhino pictured in Cat Tien in 1998 (filed photo)
A Vietnamese rhinoceros was last seen in the Northwest region in 1964 and the critically endangered species hds been assumed to be extinct in the country ever since.

This was challenged in 1987 when a hunter shot an adult female rhinoceros near the Dong Nai River in Lam Dong, a province in the Central Highlands. The rhino was identified by biologists as a sub-subspecies of the Javan rhino.

The event attracted much attention from international and local conservationists, as rhinos face one of the highest risks of extinction in the world. Only a small population of 60 Javan rhinos survives. They are found in Ujung Kulon National Park, situated on the western tip of Java.

In 1996, a 35,000 hectare Cat Loc Rhinoceros Conversation Zone was established in Cat Tien, which merged with the Cat Tien National Park in December 1998. The Park has established five forest management stations and a Rhinoceros Monitoring Unit (RMU) to study reproduction and growth of the rhino population. Despite their efforts, no evidence of calves has been found.

What worries conservationists most is that no sightings of adult rhinos have been reported in Cat Loc over the past few years. Tests of rhino dung, collected at Cat Loc, have been recently conducted by scientists from the US' Colombia University. The tests show that as few as seven-eight rhinos may only exist. But no one knows the sex ratio among the population.

Historically the Vietnamese rhino preferred low-lying areas but has been pushed onto higher ground due human activities.

At Cat Loc Rhinoceros Conversation Zone, there are some 60 ethnic minority households living a semi-nomadic life. They cultivate slash-and-burn fields, and hunt and fish for a living. Their farming habits have led to a rapid exhaustion of food for rhinos.

Since rhinos are forced to live in much smaller and higher areas, they are more susceptible to disease and problems of inbreeding.

Consequently, one of the most important measures to protect rhinos in Cat Loc is to build a resettlement zone for the ethnic minorities. M.S. Pham Huu Khanh, deputy manager of the Cat Tien National Park, said that such a project needs VND100 billion ($5.7 million).

Before the resettlement project can begin, an investigation into the number, sex, age and breeding capacity of existing rhinos in Cat Loc needs to be conducted. If there are very few, rhinos may be raised in the park under the close supervision of conservationists. The genes of rhinos in Cat Loc can be saved and used for artificial insemination in the future, added Khanh.