The Vietnam Railway Corporation has announced reduced freight charges from now until November 30, 2008 in response to falling world and domestic fuel prices.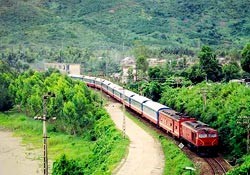 Freight charges are reduced until November 30, 2008
The corporation has asked the General Director of Railway Freight Transport Company, Bui Tan Phuong, to issue specific rates.
Freight charges will be reduced by 2 per cent on all North-South routes with the exception of routes from Lao Cai Province to the south and Hai Phong attracting a five percent decrease.
Freight charges on all commodities other than apatite, coal transported to the Pha Lai Thermal Power Plant, and iron and steel scrap will be reduced by 5-10 per cent.
The corporation will continue to levy a fuel surcharge that it first imposed when world and domestic fuel prices shot up.