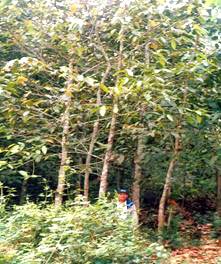 A view of some of the hairy-leafed apitong trees in Vietnam's central region (Photo: dof.mard.gov.vn)
A forest of hairy-leafed apitong (Dipterocarpus alatus), a rare timber tree whose resin is also used by indigenous people as a waterproofing material, has been found in Sinh Ton valley in the central province of Quang Binh, the head of Phong Nha-Ke Bang National Park has said.
Nguyen Tan Hiep added that the two-hectare forest is primeval with many of the trees being 0.5 meter or more across at the trunk.
The hairy-leafed apitong belongs to Dipterocarpaceae, a family of approximately 500 species of mainly tropical lowland rainforest trees.
Indigenous people use its oleoresin for waterproofing baskets and boats while its modern uses include use in paints, varnish, and lacquer.