Three rare and endangered Sua trees (Dalbergia cochinchinensis – Alstonia family) in the Phong Nha-Ke Bang National Park in Quang Binh Province have been cut down by lumberjacks, said a forest ranger at the Park on April 28.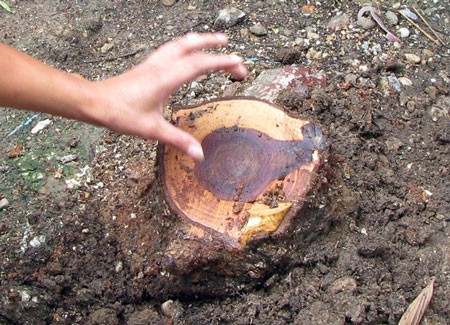 Stump of the cut Sua tree (Photo:Dantri)
The forest ranger could not determine exact period when the trees had been cut.  They were discovered cut, with only their stumps left, in an area deep in the Park. Lumberjacks had taken away the trunks of the three Sua trees, and left branches and foliage behind.

The Sua tree has been listed as an endangered flora species in Vietnam and placed on the international red list.

Sua timber is rare and valuable, used for spiritual purposes and for treatment of some diseases in China. In Vietnam, Sua is considered a first-class timber, as it is hard wood, durable, easy to work with and resistant to insects.
Police are now investigating the case further.