In their latest report released on April 10 and 11, CB Richard Ellis Vietnam (CBRE) and Savills Vietnam announced poor prospects for the realty market, with some minor advantages.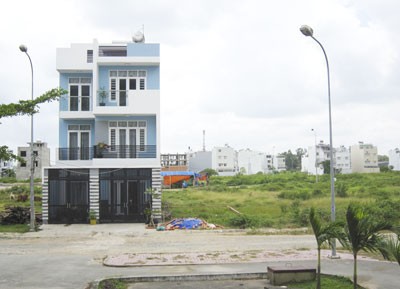 It is n

essasary to have a

new decree on land planning and rate of land compensation and resettlement is needed (Photo: SGGP)
According to CBRE, the realty market has some advantages such as lower deposit interest rates, decreased gold price, a new relief package of VND30 trillion (US$1.43 billion) and a tax cut proposal.
In a recent press brief, Vu Thi Mai, Deputy Minister of Finance, said the government has proposed a tax cut for businesses and investors in this sector.
As per the proposal, 50 percent of VAT tax will be cut for social housing investors and 30 percent for businesses, applicable for apartments with less than 70 square meters of living space and cost of less than $15 million per square meter, from July 1, 2013 to June 30, 2014.
In addition, businesses and investors in the social housing sector can enjoy a corporate income tax of 20 percent, instead of the current 25 percent, and the value-added tax slapped on home buyers will be slashed from 10 to 5 percent to encourage purchase, the ministry said. The tax break will be applicable from July 1.
In Hanoi, most supply was in low-income housing projects with cost of under $1,000 per square meter. Housing apartments in stock are now down 50 percent compared to before. While Savills said Ho Chi Minh City supply increased with 15,800 apartments, a year-on-year increase of 28 percent at average price of VND20 million a square meter.
Dang Duc Thanh from the Vietnam Chamber of Commerce and Industry said these proposed measures have not touched the core of the problem in the sector as yet.
According to Thanh, there should need to change the decree on land planning and rate of land compensation and resettlement.
Also, the State Bank of Vietnam should have a policy for buyers to enjoy a minimum loan term for 7-20 years with a stable lending interest rate of 8-10 percent per year.