A blood donation day called 'the grateful pink drops' attracted participation of thousands of volunteers in Ha Noi on July 26, reported by Dr. Nguyen Anh Tri, Head of the National Institute of Hematology and Blood Transfusion.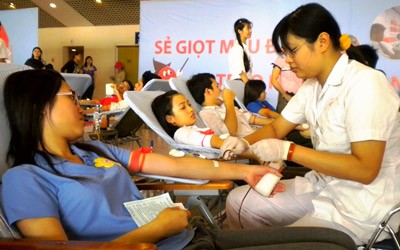 Young people join in blood donation campaign (Photo:SGGP)
'The grateful pink drops' is named in series of 'Red Journey' campaign in 2014. After launching to over 25 provinces and cities nationwide, the campaign received over 45,000 units of blood from individual, members of social organizations.
'Red Journey' campaign becomes an annual meaningful activity, aiming to donate blood for disadvantaged patients.