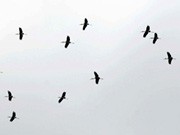 Ten of a dozen red-headed cranes fly in formation over Vinh Long.
It might sound pretty humdrum to hear of a dozen red-headed cranes flying in formation over Vinh Long on Sunday morning, but the locals reckon it's the first time they have ever seen the birds in the Mekong Delta province.
In Viet Nam, the usual habitat of Grus antigone sharpii, as the endangered species is called scientifically, is Tram Chim National Park in Dong Thap province and the Ha Tien-Kien Luong area of Kien Giang province to the south.
Sunday morning's flight over Vinh Xuan, a rural commune in Vinh Long's Tra On District, is also the first time the migrating birds have been noticed heading for the Hau River in the rice-growing season.
This dry season, in early April in fact, the International Crane Association recorded the return of 297 red-headed cranes to Vietnam, slightly down on the 310 the previous April.
While fewer seem to be coming back to Vietnam, the number of red-headed cranes observed in Cambodia has grown to 517, well up on the 411 last year.
Every dry season, red-headed cranes leave northern Cambodia and the forests of Vietnam's Central Highlands and head for the wetlands in the Mekong Delta and around Cambodia's Tonle Sap.
This year, 208 cranes returned to Ha Tien-Kien Luong in Kien Giang and 89 to Tram Chim National Park in Dong Thap.
Though Ha Tien-Kien Luong still has the largest crane population in Vietnam, the number has been falling for five years.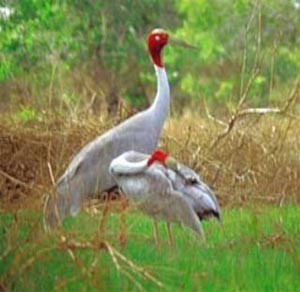 Red-headed cranes
In the past, the birds would inhabit Hon Chong Forest in Kien Luong District, but tree-felling to make way for shrimp farms since 2003 has made Hon Chong undesirable from a crane's point of view.
There's no doubt that the massive conversion of natural wetlands to shrimp farming is the most important factor in lowering the number of red-headed cranes returning to Vietnam.
The situation is similar at Tram Chim, where poor land management in past years resulted in marked changes to the park's wetland areas. In the past two years, this eco-management has been improved somewhat, but no perceptible increase in the number of returning cranes has been noticed.
If the natural wetlands in Ha Tien-Kien Luong continue to disappear and the environment in Tram Chim national park is not protected, it is possible that Vietnam will lose all its crane flocks, as has happened in Thailand.