The Danish Embassy plans to fund a project with a DKK 3,000,000 (VND10. 4 bill) grant for support of a vocational training and job creation program for drug users at the Center for Social Labour Education in Ba Vi.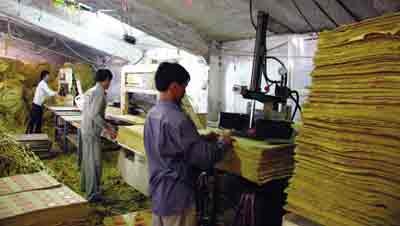 Former drug addicts are working at a Society Labor Education Center in the northern province of Hai Phong
The signing ceremony will take place on March 23 with representatives from the Ministry of Labour, Invalids and Social Affairs of the Hanoi government.

Much effort has already been put into vocational training programs for drug users and sex workers in Vietnam. However, only a small number of people that have been trained have been able to find jobs afterwards.
In addition to poor and inappropriate vocational training, discrimination for rehabilitating drug users and sex workers leads to depression, low self-esteem and lack of confidence amongst them.

These are some of the factors that inhibit them from getting jobs and reintegrating into society. There is thus a great need for vocational training and job placement programs that are based on the demands of the labour market.
The project will be implemented from March 2011- March 2013. The Ba Vi Center will initiate the project with assistance and consultancy of two companies including Esoftflow and the Strategic Consulting Company Ltd.

Drug users at the Ba Vi Center will be provided with a comprehensive training program and will at a later stage be offered work at the Esoftflow company who will also provide training at the center. The training program will cover specialized graphics, computer skills, elementary English and knowledge about social integration.
The project adds much value as it incorporates soft skill training which helps enable the inmates to socialise and adapt themselves in a normal working environment.

The Danish Ambassador believed that creating new jobs and helping the socially disadvantaged to reintegrate into society was the responsibility of all and it formed a key feature of the Danish development assistance in Vietnam.

The project plans to carry out eight training programs during the next three years at the Ba Vi Center. Each program will be attended by 16 inmates of which the best 2 or 3 learners will be offered jobs at Esoftflow. In addition, the project management will associate with other relevant companies to search for job opportunities for other inmates who meet the selective criteria after leaving the center.