The Viet Nam-Laos relationship is an invaluable asset of the two nations which should be upheld and passed to future generations, said Party General Secretary Nguyen Phu Trong.
He made the comments at a reception for Lao National Assembly Chairwoman Pany Yathotou in Ha Noi yesterday. The Lao leader was in the Vietnamese capital to attend a conference on relations between the Viet Nam and Laos National Assemblies.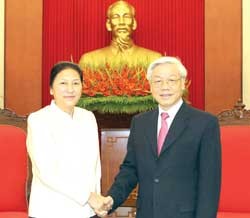 Party leader Nguyen Phu Trong (R) receives Lao National Assembly Chairwoman Pany Yathotou in Ha Noi.
Trong affirmed that the conference was one of the important events of the year, which had been designated as the Viet Nam-Laos Friendship Year, and a vivid manifestation of the special solidarity between the two countries.
He said he believed the Lao people would continue to gain greater achievements in the renewal process and successfully implement the Resolution of the 9th Party Congress and its five-year socio-economic development plan.
Trong also said he expected the two legislative bodies would continue to work closely, increase information and experience sharing and contribute to deepening the two countries' traditional friendship and special solidarity.
Yathotou said the Lao NA would work closely with its Vietnamese counterpart in implementing the signed agreements.
President Truong Tan Sang also held a separate reception for the Lao lawmaker, during which he lauded her contribution in fostering ties between the two countries.
He also said Viet Nam would be ready to support Laos to successfully organise the 7th Asia-Europe Parliamentary Partnership Meeting (ASEP 7) running from October 3-4 in Vientiane and the 9th Asia-Europe Meeting (ASEM 9) to be held in Laos by the end of this year.
On the same day, Prime Minister Nguyen Tan Dung met with Yathotou. During the meeting he said Viet Nam and Laos should further strengthen comprehensive co-operation, especially in economics, investment and education and training to usher in new development steps in the relationship between the two countries.
Yathotu said the recent co-operation between the two countries continued to see positive results, especially in economic fields.
She also noted that Vietnamese enterprises operating in Laos have contributed to the country's economic growth and social security.
She stressed the Lao Government will create the best conditions for Vietnamese enterprises to invest and do business in the country, for the benefit and development of both nations.
The Lao guest also recommended the two Governments promote people-to-people exchanges and co-operation between border localities of Viet Nam and Laos.
She said she hoped Viet Nam would share experiences in socio-economic development with Laos, especially in economic management, poverty reduction, foreign investment attraction and infrastructure development.