The Ministry of Health (MOH) and the United Nations (UN) in Vietnam emphasized the importance of available, reliable and timely data to guide evidence-based policy formulation and implementation at a press conference on July 2 in Hanoi to commemorate the 2010 World Population Day.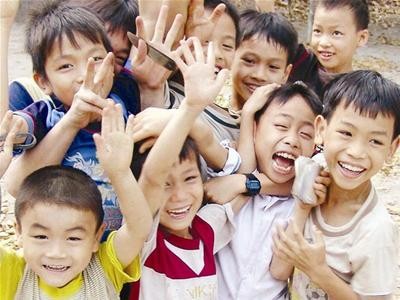 According to the results from the 2009 Census, TFR has remained below the replacement level
Accurate data is essential for making good decisions, and information on population dynamics, including age, gender, ethnicity, fertility, mortality, gender ratio for births, as well as migration and urbanization trends, are crucial in advancing development, according to the Government and UN officials.
"Governments need to be able to gather information and track, analyze, disseminate and utilize population data in order to create and manage sound policies and generate political will to address current and future trends," Urmila Singh, Deputy Representative of the United Nations Population Fund (UNFPA), pointed out while acknowledging that Vietnam has made steps forward in this regard. "The 2009 Population and Housing Census is a very good example on how detailed data should be collected, analyzed and utilized to undertake more robust development planning."
According to the results from the 2009 Census, the Total Fertility Rate (TFR) has remained below the replacement level and has fallen from 2.33 children per woman in 1999 to 2.03 in 2009.
This eases pressure off Vietnam's socio-economic development, as well as reduces associated strains on the political and social security systems. It will also contribute to provide society, especially women and girls, more convenient and effective access to health care, education, employment and other social protection services.
Census data shows that Vietnam's Crude Death Rate (CDR) and Infant Mortality Rates (IMR) are declining. The CDR is 6.8 per 1,000 persons while the IMR has fallen from 36.7 in 1999 to 16 per 1,000 live births in 2009. The Maternal Mortality Ratio (MMR) is now 69 per 100,000 live births.
However, there remains a vast chasm between river deltas and mountain areas, where higher ratios exist for ethnic minorities of remote areas. This gap needs to be addressed in order to reach the Millennium Development Goal 5, which calls for a 75 percent reduction in maternal mortality by 2015.
"Our collective efforts to achieve the MDGs must remain a priority. In order to enhance the quality of health and reproductive health services for ethnic minority people in remote and mountainous areas, we need to pay special attention to ethnic minorities and other vulnerable groups, " said Mr. Nguyen Ba Thuy, Vice Minister of Health.
In addition to a decline in fertility and mortality, Vietnam's Sex Ratio at Birth (SRB) has experienced an unusually rapid rise in recent years, from 106.2 in 2000 up to 110.5 boys per 100 girls, according to the 2009 Census. The data also shows that sex selection is more commonly practiced in Red River Delta provinces and among better-off households in Vietnam.
"More work needs to be done to strengthen public education and to promote gender equality to enhance the important role of women both within families and society," stated Mr. Thuy. 
Internal migration is a driving force for development but represents another emerging challenge for the country, particularly in recent decades. The total number of internal migrants within a five-year period prior to the 2009 Census increased to 6.6 million people. Migration from rural to urban areas, which is the main migration flow in Vietnam, puts significant pressure on existing urban infrastructure and social services.
On World Population Day 2010, the MOH and the UN in Vietnam called on the Vietnamese Government and the country's decision makers to utilize Census 2009 data effectively, in order to make the most efficient investments that meet the needs and circumstances of the population and help to lift people out of poverty.