US officials held a repatriation ceremony in Da Nang, central Viet Nam, on April 18 to transfer custody of one set of remains believed to be of an American missing in action (MIA) from the war in Southeast Asia.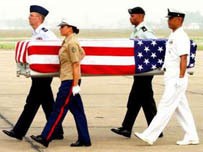 Remains of US servicemen on the way back to the US from Viet Nam
During the ceremony at Da Nang International Airport, a US military honor guard placed the remains onto a US Air Force aircraft for repatriation to the US.
Joint US-Vietnamese teams recovered the remains and material evidence from a site in Viet Nam's Central Highlands during their field operations in February and March 2006, according to the US Embassy.
The US Embassy says the first stop of the remains in the US will be the Joint POW/MIA Accounting Command (JPAC), Central Identification Laboratory, Hickam Air Force Base, Hawaii. The laboratory is the executive agent of the US Department of Defense for identifying the remains of all servicemen and servicewomen.
The embassy says there are currently more than 1,380 Americans unaccounted for in Viet Nam. The US welcomes and appreciates the cooperation and assistance of the Vietnamese government in POW/MIA issues and future field operations.

Link
US Embassy