In the northwestern province of Lao Cai, downpours have loosened large chunks of hillside, leaving several roads in near ruin. To release thousands of residents, tourists and vehicles that have been stuck in the province due to landslides, maintenance crews have expended their efforts to clear streets where the traffic had slowed to a crawl.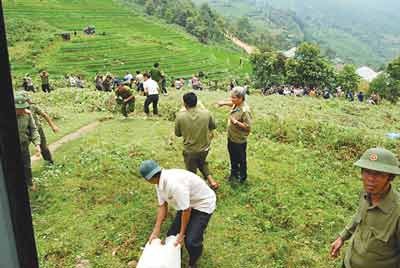 Y Ty residents receive food from helicopter
The maintenance crews have been kept busy clearing and repairing both roads. They spent a whole night to continuously scoop cascading soil and rock and at last their efforts have gone rewarded, traffic was allowed on the Highway 279 on Tuesday.

Vehicles can now travel from Lao Cai to Ha Noi on the route of Lao Cai-Ha Giang-Tuyen Quang and Ha Noi.
However, the National Highway 70 leading southward from Lao Cai, Yen Bai and Phu Tho is still blocked by floods and landslides.
Explaining the slow procedure, Mr. Nguyen Duc Ke from the Lao Cai Province's Communications and Transport Department said two trucks and a passenger bus fall into the abyss coated with soil and land, but a salvage operation has not carried out so it will take about three or four days to clear the road.
Over 100 soldiers along with local men in Bao Yen District, the most flooded areas of the province, were seeking residents' property and clearing some sections of the roads 70 and 279.
Bao Yen District People's Committee used VND809 million (US$49,000) as relief funds for families whose relatives are reported to be dead or missing.
The district administration also provided 10 tons of rice, 640 instant noodle containers to residents. Mr. Tran Dinh Khai from the People's Committee called for the government's aid of VND2 billion (US$121,000) for these families whose houses were swept away completely after the storm.
To provide food to residents in isolated commune Y Ty which lies on a mountain, a group of the central and Lao Cai administrations used a helicopter to arrive the commune yet they had to throw instant noodle containers, rice bags, salt, drugs down because the helicopter could not landed due to thick fog.
The head of the National Steering Committee for Floods and Storm Control Cao Duc Phat after overcoming some seriously damaged streets had come to the northern province of Lao Cai to direct the tasks.
The same day, National Assembly Chairman Nguyen Phu Trong arrived in Lao Cai by helicopter to check on local efforts to overcome flood consequences.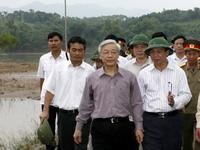 NA Chairman Phu Trong stops at his first destination of fact-finding tour of the flood hit Yen Bai province on Aug 13
Chairman Trong urged Lao Cai authorities to pay more attention to the evacuation of people, the prevention of landslides and drawing flooding prevention schemes.
The Central Steering Board for Flood and Storm Control reported on August 12 that flood fatalities reached 112 and 45 went missing. Lao Cai is the hardest hit province with 48 deaths, followed by Yen Bai – 35 deaths.
Flood waters swept away 307 houses and flooded 4,230 houses. They damaged more than 3,500 hectares of cropland destroyed another 9,000 hectares.