The naval forces in the southern city of Vung Tau on Friday escorted 14 fishermen safely back to the city, after they were rescued by another fishing boat, when their boat capsized in the recent storm.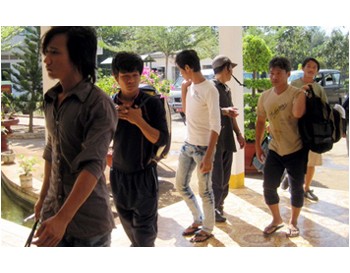 All rescued fishermen arrive in Vung Tau City on March 6 (Photo: Tuoi Tre)
Earlier on March 28, while seeking shelter from Storm 'Phakhar', fishing boat KH 95977 TS belonging to Huynh Cong Chanh from the central province of Khanh Hoa was badly wrecked by huge waves around the periphery of Truong Sa (Spratly) Islands.
The 14 fishermen on board were able to call for help before their boat sank and they were thrown into the water.
By chance one fishing boat nearby, belonging to Duong Quang Tho from the central province of Quang Ngai received their call for help and came to their rescue.
Tho and his men struggled for hours with strong winds and huge waves to round up all the 14 fishermen on board their vessel before finally bringing them to Song Tu Tay Island.
All the rescued fishermen were sheltered by the naval forces on the island. On April 2, naval vessel HQ 736 departed from the island to take them ashore to the mainland.