Clean up operations have begun in the central region since Wednesday with people and authorities joining hands in bringing semblance of order in residential areas and along roadways as flood levels continue to slowly recede.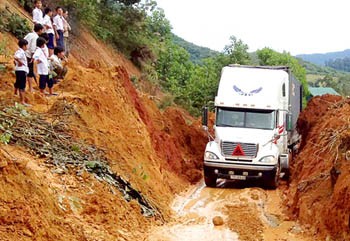 A truck traversing a muddy landslip section of Ho Chi Minh Highway in Quang Nam Province on November 11 (Photo: SGGP)
Although flood waters are beginning to gradually recede, several lowland areas are still inundated because of release of floodwaters from hydropower plants and irrigation reservoirs.
More than 50 percent households are still submerged in Dien Ban, Que Son, Nong Son Districts in Quang Nam Province and local authorities and residents are rushing to find those still missing.
Over 200 youth helped in tidying up schools in Thua Thien-Hue Province. Thousands of people assisted the environment protection units to clean up streets such as Hung Vuong, Dong Da and Nguyen Hue in Hue City.
Relic sites have again opened for tourists after two days of shutting down and several people were seen visiting Hue Royal Palace and other historical relics in the city on Wednesday.
The same day, a high ranking delegation from Luxembourg donated Euro 100,000 for Thua Thien-Hue Province recovery operations.
According to the Steering Committee for Flood and Storm Prevention in the central and central highland regions, the dead toll has increased to 26 people over the last few days.
18 of the deceased were from Quang Nam Province, six from Da Nang City and Quang Ngai Province and two from Hue City and Binh Dinh Province.

Ho Chi Minh Highway in Quang Nam Province opened for traffic on Wednesday after being cut off for several days due to landslides. However, heavy rains in the next few days may once again cause landslides and further congestion.
 
Mounds of landslide debris are still blocking traffic along several roads in Quang Nam, Quang Ngai and Binh Dinh Provinces.
The tropical depression is moving far away from the central coastline and forecast to shrink into a low pressure zone by Thursday.
According to the National Weather Bureau, heavy rains will continue in the central region for one or two days. There will be mild sunshine in the northern region while in the west southern region it will be sunny in the morning but rain is expected by afternoon.
Related articles:
Tropical depression dumps more rain in mid central region
Central region immersed under floodwaters
Heavy rains in central region cause receding floodwaters to rise
Residents flee landslide prone areas along Huong River