Yesterday, the Hue Centre for Monuments Conservation organized an inauguration ceremony to celebrate the completion of work on restorations and preservation of the Thien Mu Pagoda, a popular tourist site in the former royal city of Hue.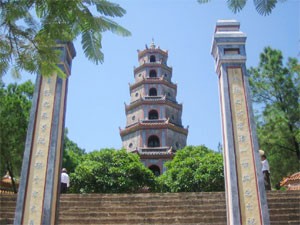 The Thien Mu Pagoda
The restoration and preservation of the pagoda, including the Dai Hung and Ksitigarbha Bodhisattva Temples and  Phap Duyen Tower, lasted five years and cost over VND26.5 billion (US$1,652,841).
Located on Ha Khe Hill, on the northern bank of the Huong river, some 5km from downtown Hue, Thien Mu is the oldest pagoda in Hue and receives hundreds of foreign and local visitors each day.
The pagoda was first built in 1601 in Lord Nguyen Hoang's reign and was rebuilt between 1691 and 1725 under the reign of Lord Nguyen Phuc Chu.
The Thien Mu Pagoda was ranked by King Thieu Tri (1841-1847) of the Nguyen Dynasty as one of twenty best sites in Hue.