A conference has been held in Dong Thap Province in the heart of the Mekong Delta to discuss ways to increase and improve production in the country's largest rice growing region.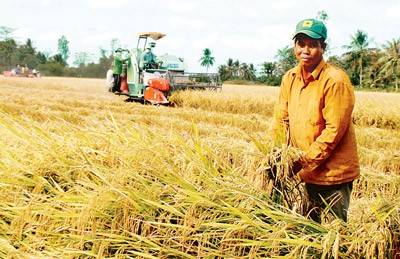 Vietnamese rice is competing with low-quality varieties from India, Pakistan, Myanmar and Cambodia (Photo: SGGP)
Although the Mekong delta produces over 90 per cent of the rice exported from the country, lives of people in this region have not improved much over the years. 
Participants at the conference pointed out that one of the reasons was lack of communication between farmers, scientists and export companies. Therefore much needs to be done to develop long-term strategies for Vietnamese rice and also help build a brand in the world market.
At the conference, Dr. Pham Van Du, deputy chief of the Department of Cultivation, said there should be better cooperation between farmers, scientists and export companies as this was one way to improve rice exports. The farmers should be able to predict the market for production and consumption.
However, Pham Van Bay, deputy chairman of the Vietnam Food Association, said despite warnings from the association and scientists, farmers continue to grow low-quality rice on 15 to 20 per cent of the area, and high-quality and fragrant varieties on the rest. Farmers still grow low-quality IR 50404, which does not have many buyers. With the winter-spring rice crop being harvested in the Mekong Delta, high-grade varieties of paddy are much in demand while low-quality IR 50404 has few takers.
Deputy Minister of Industry and Trade Nguyen Thanh Bien said rice export in the first quarter of 2012 failed to achieve the target. The country exported over 1 million tonnes of rice in the period, year-on-year decrease of 42 percent in volume and 29.5 percent in value.
Vietnamese rice is competing with low-quality varieties from India, Pakistan, Myanmar and Cambodia, hence it is difficult to maintain its traditional markets, said Bien.
Bay stressed that the current competitor is India who is offering lower prices. In addition, Vietnamese enterprises are short of containers and traditional markets order goods by containers, which raises costs by US$4 per tonne.
Price of rice in the world tends to go down as recently many customers proposed a decrease of $5-10 per tonne, said Bay. Low quality rice hardly has any customers. Hong Kong and China require only 5 per cent broken rice. Farmers should therefore not plant IR50404 variety any more or else they will only suffer losses. 
Rice exports are facing a crisis and both exporters and farmers are suffering.  Hence, to be able to meet targets of seven million tonnes in exports this year seems unrealistic, Bay concluded.