Almost 80,000 out of 123,645 hectares of the winter-spring rice crop in the Mekong Delta has contracted leaf diseases caused by brown plant hopper Nilaparvata lugens, a major pest, and this threatens Viet Nam's food security, the agriculture ministry has warned.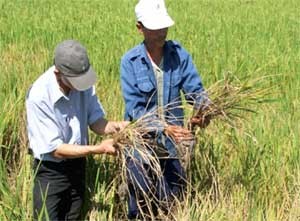 Rice damaged by brown plant hopper Nilaparvata lugens in the Mekong Delta (Photo: SGGP)
The provinces of Long An, Tien Giang, Tra Vinh and Vinh Long are hardest hit. Long An and Tien Giang have announced an epidemic, Vinh Long is about to pronounce, while 14,000 hectares of ailing rice in Tra Vinh have embarrassed local officials, said Mr. Diep Kinh Tan, deputy agriculture minister.
Even worse, there are fears the insects may spread quickly. Another problem is in many localities, farmers refuse to destroy ill paddy fields despite of an epidemic affecting 40-50% of the total area.
The agriculture ministry has warned an extreme alert, and ministry officials are working in all the 13 Mekong Delta provinces to fight against the epidemic. 
Experts warn that the country's food security will be harmed if the epidemic is not curbed soon.
Mr. Tan asserted that paddy fields with a high epidemic rate must be destroyed.   
According to the agriculture ministry, it will take at least 5-7 years more to produce proper insect-resistance rice seeds. The current seeds can only resist the insects to an acceptable extent.
Prices of such seeds are increasing in the delta, but there is a shortage of supply. Therefore, many farmers have selected non-insect-resistance seeds.
A fact in the delta – Viet Nam's biggest rice growing region – is that the pests have caused an epidemic every 10 years or so.