Soon after the Vietnam Food Association completed purchasing of rice in some provinces for stockpiling, prices which had increased slightly have dropped again.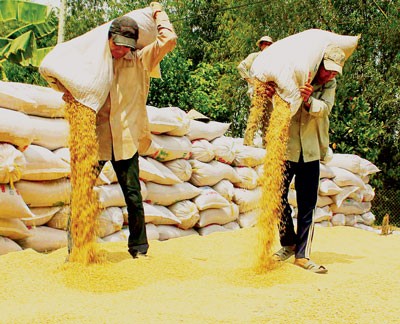 Many farmers still dry rice under the sun in the Mekong Delta (Photo: SGGP)
Nguyen Thanh Hung, director of the Department of Industry and Trade in Hau Giang Province said that the total output of winter-spring rice crop in the province is 500,000-600,000 tonnes but the association has bought up only 30,000 tonnes.
Similarly, the rice output in Dong Thap Province is 1.5-1.6 million tonnes, but the association only bought 160,000 tonnes for stockpiling, barely 10 per cent of the output.
By April 10, the delta had harvested two thirds of 1.5 million hectares of winter-spring rice. The total output is estimated at 11 million tonnes while the Government has plans to buy only one million tonnes of husked rice.
The Mekong Delta cultivates three rice crops a year. While a large volume of winter-spring rice is still unsold, farmers have begun to seed the summer-autumn crop.
Farmers usually seed and harvest rice at the same time. This creates conditions for traders to squeeze prices during peak harvest time.
Besides, farmers also face risks of unseasonal weather. In the last winter-spring crop, vast areas of rice were flattened due to rainstorms, which badly affected output and also increased harvesting costs.
According to Duong Nghia Quoc, director of the Department of Agriculture and Rural Development in Dong Thap Province, warehouses should be built soon to help farmers preserve rice.
 
The Vietnam Food Association has so far purchased 700,000 tonnes of rice for stockpiling from a target of one million tonnes, and is expected to purchase the remaining amount by April 15.