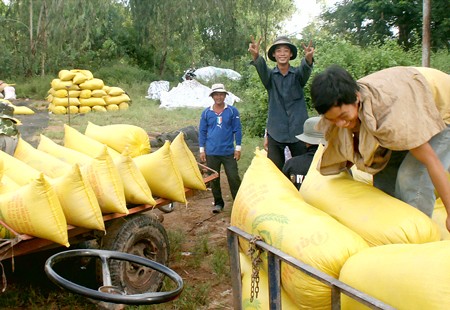 Farmers are happy for realzing high profit (Photo: SGGP)
The Vietnam Food Association said that in December, enterprises have exported over 303 tons of rice, worth US$153.5 million. The whole year export is 6.5 million tons of rice achieving US$2.9 billion.
By the afternoon of December 30, traders in Dong Thap and Kien Giang provinces in the Mekong delta proposed to pay VND5,100-5,300 a kilogram for fresh normal rice; VND5,400-5,400 a kilogram for fresh long grain type and VND 6,200 a kilogram for aromatic long-grain rice.
While 5-percent broken rice was quoted at VND8, 300-8,400 per kilogram, 15 percent broken rice is at VND7, 950-8,050 a kilogram and 25 percent broken rice at VND7, 750-7,850 a kilogram.


It means that rice in the Mekong delta is being sold at high price. With this price, farmers will realize a considerable profit from VND20-35 million per hectare.