Rice prices have suddenly increased in the Mekong Delta over the last few days and profited traders but farmers.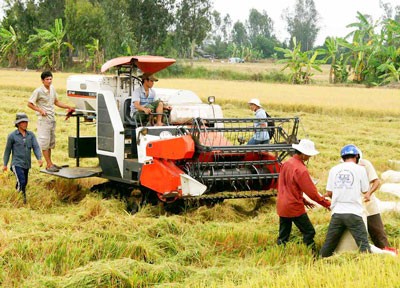 Farmers harvest summer autumn rice in the Mekong Delta (Photo: SGGP)
Traders paid VND4,500 a kilogram of fresh rice, up VND200 over the last two week, said farmer Pham Van Nua from Hong Ngu District, Dong Thap Province.
However, the prices have not gone up in remote areas in the delta.
"I heard the prices have hiked for the last few days but it still remains unchanged in Phung Hiep District in Hau Giang Province," said Nguyen The Tu, head of the district's Agriculture and Rural Development Department.
According to Sai Gon Giai Phong reporter, the prices have been up VND200-300 per kilogram in places adjacent urban areas and with convenient traffic systems.
The Vietnam Food Association reports dry rice price swings VND5,450-5,550 a kilogram, up 200-250 compared to early June. Long grain variety increases VND110 per kilogram to fetch VND5,650-5,750.
Husked rice price has gradually moved up. Businesses paid as high as VND7,000 per kilogram of normal rice, up VND300 over early June.
Export businesses say that the rice volume left from last year has almost run out and rice demand for export contracts to the Philippines, Malaysia, Africa and China has surged.
Thai exports are inconsiderable, Pakistani rice costs high while Indian output has fallen 25-30 percent due to drought. 
The Mekong Delta farms about 3.8-4 million hectares per year yielding 25 million tons in output. Of these, 70 percent is for export.
Up to 90 percent of rice in the market goes through the hands of traders. Farmers selling rice one or two weeks ago could not enjoy the price hike.
The main cause for the above condition is due to lack of connectivity between export companies and farmers and unfair competitiveness among businesses, according to Nguyen Do Anh Tuan, head of the Institute of Policy and Strategy for Agriculture and Rural Development.
The Government's rice stockpiling program just has indirect impacts on farmers and been untimely launched to assist farmers.
Experts propose production and distribution should be linked, value chains should be clear and fair, and there should have a national trade name for rice to ensure rice growers' lives.