Landslides along the riverbanks are worsening in Can Tho City and in An Giang, Tien Giang and Dong Thap Provinces in the Mekong Delta, causing a serious threat to residents' lives and immense property damage.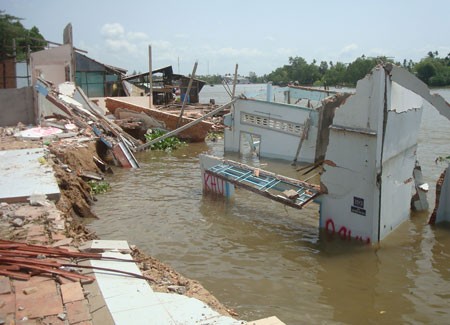 A landslide in My Khanh Commune of Phong Dien District in Can Tho City (Photo: SGGP)
Tran Hoang Lam, chairman of the People's Committee of My Khanh Commune of Phong Dien District in Can Tho, said that seven houses along the river banks have already fallen into the river.
Five others have cracks in walls and their foundation has sunk considerably which may collapse these houses anytime, he said.
According to the People's Committee in Phong Dien District, nearly 200 riverside houses are in danger of collapse. The Chairman of the City People's Committee has already inspected the site and instructed authorized organs to implement measures to prevent further losses from landslides.
Landslides have increased in An Giang and Dong Thap Provinces, especially in areas along the banks of Tien and Hau Rivers. Thousands of households are in need of evacuation. Local authorities have proposed to the Government to build another 24 resettlement areas for 6,500 households to move in.
In Tien Giang Province, nearly 2,000 households living along Cho Gao Canal are also facing risk of landslides, something they have lived with for years.