One person was killed and another seriously injured when an oncoming   train rammed into a motorbike in the central city of Da Nang on February 4, reported Sai Gon Giai Phong Newspaper.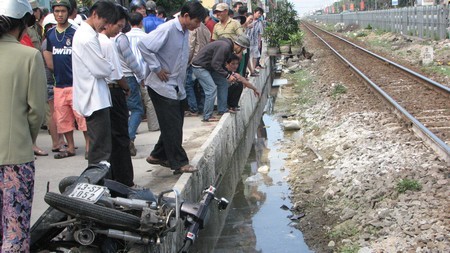 After the accident, Hoang dies on the spot
At noon on February 4, the north-south Thong Nhat SE train rammed into a motorbike being driven by 22-year-old Doan Ngoc Phu with his friend Pham Van Hoang riding pillion.
The accident occurred in front of house No. 906 on Truong Chinh Street in Cam Le District in Da Nang City. Hoang and Phu both hailed from Hai Chau District in Da Nang City. 
While Hoang died on the spot, Phu was rushed to Da Nang Hospital for emergency treatment.
According to an initial investigation, Phu drove his motorbike with Hoang as pillion rider across the railway track without paying heed to the signals of the oncoming train. The speeding train rammed into their motorbike and killed him on the spot.
On the same day, a motorcycle collided with a passenger bus and a truck on National Highway 1A in Lang Giang District in the northern province of Bac Giang at 1.30 pm, killing 26-year-old Pham Van Vy, 17-year-old Dang Dinh Quy and 17-year-old Pham The Hung, on the spot.