President Trần Đại Quang and his Iranian counterpart Hassan Rouhani reached agreement yesterday on tightening political links between their two countries and expanding their collaboration on economic, cultural and scientific-technological affairs.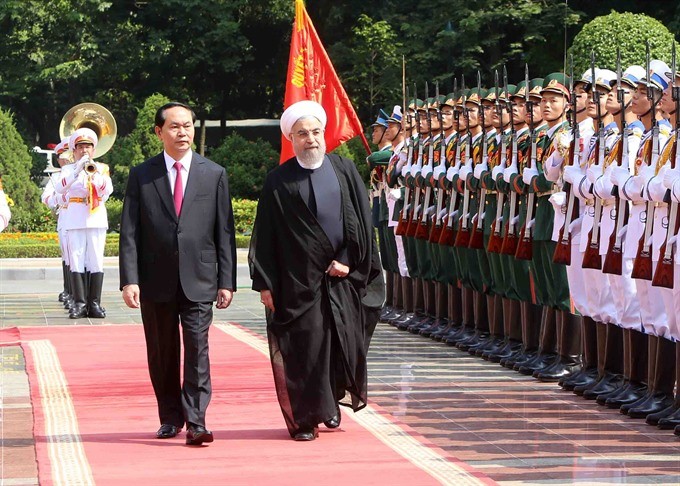 President Trần Đại Quang and his Iranian counterpart Hassan Rouhani inspect the guard of honor yesterday in Hà Nội at the start of the latter's three-day visit to Việt Nam. (Photo: VNA/VNS)
The Vietnamese leader told the media after his talks with President Rouhani that the two sides agreed to support each other in pursuing development for their people's prosperity, and for peace and stability in the region and the world. He praised the UN General Assembly's resolution on a world against violence and extremism, initiated by Rouhani.
President Quang added that he and his Iranian counterpart also discussed the security situation in the region and reiterated their pledge to contribute to peace and resolve conflicts on the basis of internationally-recognised universal principles.
Rouhani, for his part, told reporters that Iran is ready to create better conditions for Vietnamese oil and gas firms to expand their presence in his country by implementing existing contracts and seeking new business opportunities. He also underlined Iran's willingness to work with Việt Nam's high-tech industry and to co-operate with Việt Nam in the areas of construction materials, transport infrastructure and thermoelectricity, as well as in agricultural production.
The two agreed that despite many opportunities for economic, trade and investment affiliation between their countries, the scale of co-operation and trade exchange has remained modest. They therefore set a target of boosting bilateral trade to over US$2 billion and creating optimal conditions for their companies to co-operate in such areas as energy, information and communications, agriculture, fisheries, science-technology and banking.
Việt Nam and Iran will also expand co-operation in culture, education, tourism and people-to-people exchanges, President Trần Đại Quang said, adding that Việt Nam will facilitate the access of Iranian goods to the Vietnamese market. He applauded Rouhani's support for the import of Vietnamese goods into Iran in order to balance bilateral trade.
The two Presidents also witnessed the signing of two co-operation documents, one on visa exemption for official passport holders and another being a memorandum of understanding (MoU) on co-operation in information and communications.
President Hassan Rouhani is paying a State-level visit to Việt Nam from October 5-7. He was welcomed at a State ceremony yesterday.
The Iranian President invited his Vietnamese counterpart to visit Iran.