A garbage-filled canal and lake in Tu Lien Ward in Tay Ho District is blamed for a plague of mosquitoes harassing thousands of residents.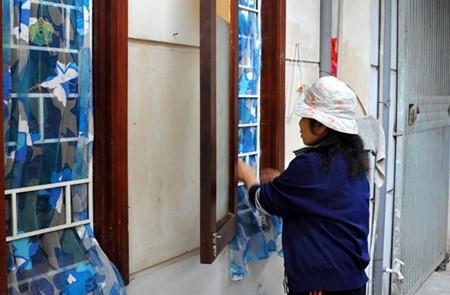 A resident uses nets to stop mosquitos from entering her house in Tay Ho District, Ha Noi. A garbage-filled canal and lake in the district's Tu Lien Ward has been blamed for a plague of mosquitoes harassing thousands of residents. — Photo www.kenh14.vn
The "mozzies" are said to breed in a waterway sometimes referred to as the "dead channel" or the "wall of waste".
The two-kilometre long channel has filled up with garbage over the years, despite "No Littering" signs on the walls around.
Residents are said to be reaping what they have sown, for most of the rubbish in the water comes from neighbouring houses and establishments.
Vice Chairman of Tu Lien People's Committee, Nguyen Van Bach, said that the limited capability of the waterway system plus the low awareness of residents has led to serious contamination.
"To completely get rid of the problem, in the future district authorities plan to replace the channel with concrete sewage pipes," Bach said.
However, no one knows when this will be done.
In the meantime, residents use a variety of techniques to avoid the blood sucking insects.
Apart from putting mosquito-nets over beds and bassinets, many people also eat inside mosquito nets hung over the dinner table.
"It has been like this for years. The mosquitoes come back every year, usually in bigger numbers," said local resident Dinh Van Cao.
An insect catching lamp Cao uses to kill mosquitoes is left on all night. In the morning, there are thousands of tiny carcasses spread around it.
"The situation gets worse on rainy or damp days," said Le Duc Thang, another resident.
"On rainy days like last week, mosquitoes blacken the ceilings and stick on clothing.
"We adults are kind of used to it, but children suffer the most. They complain of being bitten all the time. This makes it difficult for them to eat or study properly.
Resident Pham Hoang Anh said that at least at this time of year, mosquitoes did not carry malaria or other diseases.
"An official of the National Institute of Hygiene and Epidemiology told me that in October or November, the situation will become dangerous as that is the breeding time for mosquitoes that carry dengue fever," Anh said