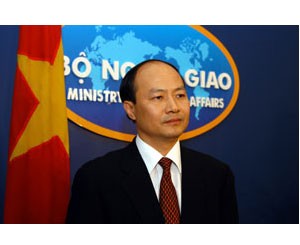 Spokesman of Vietnamese Foreign Ministry Le Dzung

This short interview was hold on March 6, 2006.
Correspondent:
Please advise Viet Nam's view on the paper of Russian President Vladimir Putin on the challenges, opportunities and responsibility of G8 group on the occasion that Russia holds G8 Presidency and has been preparing for G8 Summit in Saint Petersburg this year?
What is Viet Nam's comment on G8's role and responsibility on the development of Asia-Pacific region in particular and of the world in general?

Spokesman Le Dzung: Viet Nam holds the view that Russian Federation's initiatives on the establishment of a system of global energy security to ensure the whole world's energy supply, the close cooperation among nations to combat infectious diseases including bird and human flu diseases, the formation of a global warning system on natural disasters and education universalization as a measure to prevent extremist tendencies are practical and pressing given current complicated international context.
Viet Nam highly values the role of developed industrialized countries group G8 in safeguarding stable development of global economies in general and of Asia-Pacific economies in particular, especially G8's contribution to the common goal of narrowing development gaps among nations.
As both countries are located in Asia-Pacific, we believe that Russian Federation's assumption of G8 Presidency and Vietnam's assumption of 2006 APEC chairmanship will open up new prospects for coordination among nations in the above mentioned fields, thus contributing to the stability and development in the region and the world at large.