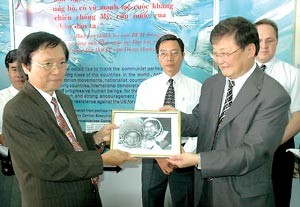 Russian Consul General in HCM City donates historical documents to representatives of the War Remants Museum
Mr. Nikolai D.Ubushiev, Consul General of the Russian Federation in Ho Chi Minh City, donated 22 historical documents to Viet Nam's War Remnants Museum.
These documents consist of letters, official telegrams, statements, agreements, pictures and photos which related to the assistance of the former Soviet's people to Vietnamese from 1965 to 1987.
It is a special present on the occasions of the 10th National Party Congress and the 31st anniversary of the Reunification Day, April 30.