SEOUL, Dec 15, 2008 (AFP) - South Korea Monday began building a centre in Vietnam to help thousands suffering from the effects of the defoliant Agent Orange since the Vietnam War, Seoul's veterans affairs ministry said.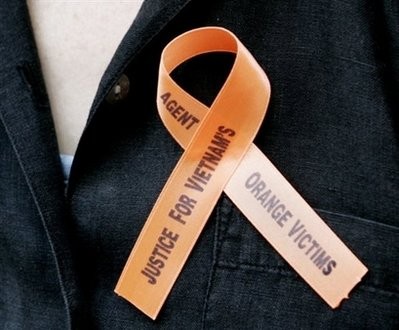 File photo shows a woman wearing a ribbon supporting Agent Orange victims(AFP file photo)
The ministry said construction of the two-billion-won (1.47 million dollar) rehabilitation centre in Quang Nam province would be completed next October.
"The centre will include a residence area, hospital and other public facilities that will be used by people and their offspring suffering from exposure to defoliants used during the Vietnam War," its statement said.
The centre is being funded jointly by the Ministry of Patriots and Veterans Affairs and the Korea Disabled Veterans Organization.
More than 30,000 people in Quang Nam alone still suffer from various ailments associated with exposure to the powerful herbicide, the ministry said.
The centre will house up to 64 live-in patients while providing daily medical services to hundreds of others. It will also offer vocational and academic classes to help victims and their families.
During the Vietnam war, US forces sprayed about 80 million liters (21 million gallons) of Agent Orange, which contains the toxin dioxin, and other herbicides to deprive their enemies of forest cover and crops.
South Korea sent 300,000 troops to fight alongside the United States. In January 2006 a Seoul court ordered the US firms Dow Chemical and Monsanto to compensate 6,800 veterans and their families.
Washington has never accepted responsibility for the millions of Vietnamese people whom the communist government says have died or suffered from direct or second-generation disabilities caused by Agent Orange.
However, Washington and Hanoi have worked together to use three million dollars approved by the US Congress in May 2007 to clean up environmental damage and support health programs.