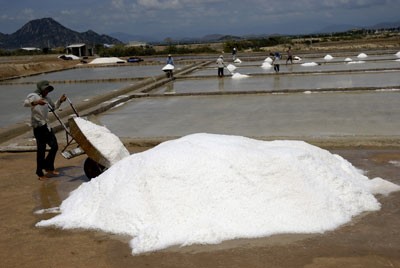 Salt farmers are harvesting their product (Photo: U. Phuong)
Salt farmers are feeling exhilarated after prices surged in the last few days, said Bui Minh Tuy, deputy chairman of the People's Committee of Dong Hai District in the Mekong Delta province of Bac Lieu, on December 29.
Traditional black salt is priced from VND48,000 to VND53,000 ($2.3 - $2.5) a gia (about thirty kilograms). The entire 20,000 tons of salt in farmers' stock has been sold.
Dong Hai District is where farmers produce the most salt in Bac Lieu Province, covering 2,300 hectares.
In previous years, farmers had to resign themselves to selling salt at VND300 a kilogram to local traders as a last resort to have a little money for food. But now they are happy with the support from related agencies in times of natural calamities, which also helped boost production.
In related news, fishermen in the central province of Quang Binh are   feeling elated after a huge haul of tiny shrimp. This is the first time they have caught these shrimps in such a large quantity, said fisherman Nguyen Van Ty from Bao Ninh Commune in Dong Hoi District on December 29.
Every night, thousands of fishing boat with load of 5-7 quintals of tiny shrimps touches ports of coastal communes in Quang Binh Province. A kilogram of tiny shrimp sells for VND25,000-VND30,000, so a boat with two fishermen can earn VND8 million($384) for a night of hard labor.