Agricultural land in Mekong Delta provinces is severely affected by saltwater intrusion, resulting in losses to local farmers.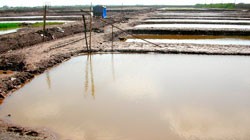 A shrimp farm in the Mekong Delta region. Shrimp farms are one of culprits responsible for saltwater intrusion in the region.
Saltwater intrusion poses a serious threat to land and freshwater sources in the Mekong Delta. Last month, the intrusion went along the Xa No Canal to penetrate as far as Vi Thanh Town, Hau Giang Province.

It resulted in a severe shortage of fresh water for 8,000 families and caused damage to nearly 20,000 hectares of rice crops.

According to Hau Giang Province Irrigation Department, it was the first time in 20 years that saltwater intrusion had occurred in Vi Thanh.

In Soc Trang Province, since mid April, the intrusion has damaged some 10,000 hectares of paddy fields. Rice seedlings on a further 5,000 hectares are currently delayed because of the salt concentration, which is between six and eight percent.

In Bac Lieu Province, over 25,000 hectares of paddy fields are flooded by saltwater, among them, more than 7,000 hectares of summer- autumn corps have been completely damaged. The salt concentration in the area is between eight and ten percent.

To help cope with the problem, in 2006, the Ministry of Agricultural and Rural Development allowed Bac Lieu and Soc Trang Provinces to jointly carry out a VND660 billion (US$37 million) irrigation project.

More than 60 drainages and dykes have been built to prevent saltwater intrusion and ensure an adequate supply of freshwater to produce 150,000 hectares of rice.

Leaders of the two provinces said that such funds were just enough to build only one-third of needs. At present, the project has ground to a halt, as officials are waiting for more Government funding.

While waiting for the project to be completed, local farmers continue to pump seawater into their shrimp breeding farms, causing further saltwater intrusion to some 60,000 hectares of land in the region.

Due to the lack of funds, the investment of hundreds of billion of dong into such a project has not produced any fruitful results.

In Khanh Lam Commune in U Minh District, Cau Mau province, saltwater has intruded into large areas of agricultural land. Local farmers cannot plough the soil to make it available for the next crops. They are facing huge losses because of low productivity.

To iron out the problems, Ca Mau has approved 23 irrigation projects, with a total investment of VND4 trillion ($225 million). At present, only four projects totaling VND190.5 billion ($6.2 million) have received funds.

Recently, the World Wildlife Fund, after having studied salt intrusion in Ca Mau, has warned that typhoons and rising seawater levels, due to climate change, will severely impact the efficiency of economies in the province in the long run.

It also urged municipal authorities to follow up changes in climate to make suitable plans for agricultural development and aqua farming programs.

Municipal authorities have also been recommended to pay more attention to ecological preservation, including protecting natural zones like sand dunes, coastal forests and aquifers, as they will help reduce the strength of typhoons, improve the quality of fresh water and regulate the currents.

Some believe it is necessary for the local government to build strategic plans about water source management, including building water works to control the volume, quality and movement of water currents in the region. At the same time, they need to provide schemes for agricultural development and aqua farming programs to help farmers avoid losses.