Officials of Saigon Trading Group (SATRA) visited soldiers in Navy Region 4 of Cam Ranh City, Khanh Hoa Province on March 27.
The visit aims to strengthen solidarity between soldiers and people.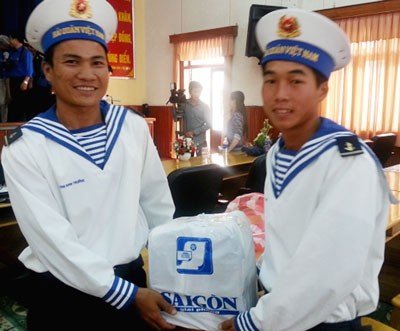 (Photo: SGGP)
This visit is part of a series of the program 'SATRA for Island Homeland'. There were musical performances for the soldiers during the event.
The event was attended by Secretary of Party Committee, Political Commissar of High Command of Navy Region 4 Pham Thanh Hoa, Chairman of Members Council of SATRA Le Tung, representatives of Director Board of Children's Hospital 2, Saigon giai phong Newspaper, Vietnam News Agency channel and 60 officials, staffs of Saigon Trading Group.
City delegation offered VND 300 million, gifts and sports equipments to units of Navy Region 4.
Youth Union of Saigon Trading Group launched construction to offer Brigade 189.
On this occasion,  SGGP Newspapers also delivered personal letters of students from Ho Chi Minh City to soldiers of Navy Region 4.