Scores of dead fish were found floating on the Cai Tau River for the last two days, in the same area where a fortnight back huge numbers of fish had died, presumably from contamination of wastewater leak from the nearby Ca Mau Fertilizer Plant in the Mekong Delta province of Ca Mau.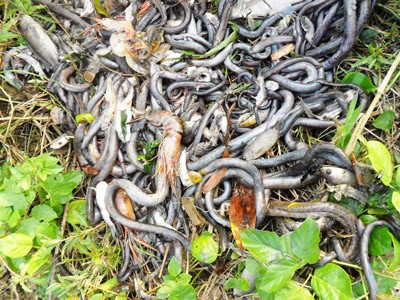 Almost all river animal species died in the Rach Dan Canal (Photo: SGGP)
Residents from Khanh An Commune of U Minh District living along Rach Dan Canal, which is fed by the same river, said that not only fish but also shrimps and crabs died in vast numbers.
According to local residents, this is the third instance that scores of dead fish have surfaced on the Cai Tau River; the first time was about a fortnight before Tet Lunar New year and the second on February 8.
The Department of Environment Protection in Ca Mau Province on February 20 sent officials to survey the area and collect river water samples for testing, to clarify the reasons behind these recurring phenomena.
On February 2, while the Ca Mau Fertilizer Plant was conducting trial operations, technical problems occurred in the wastewater treatment system, which caused leak of wastewater into the Cai Tau River. The plant then had to temporarily halt operations.
Organisations analysing the river water found ammonia content in samples that were 15 times above permissible limits, resulting in fish to die in the water.
The plant resumed operations on Tuesday after repair works were done.
Thousands of households living along the banks of the 44 kilometre stretch of the Cai Tau River depend on fish from the river as a sole means of livelihood.