Search operations have been continuously broadened to seek nine missing crew members on CASA-212 aircraft although the waters in Bach Long Vi island has become rough with strong winds.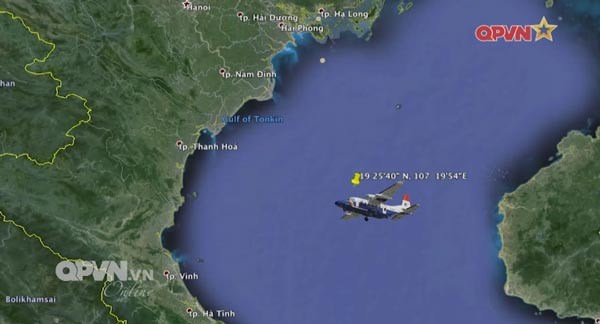 The location where debris of CASA-212 was retrieved (Photo: QPVN)
The Border Guard Post in Bach Long Vy island district, Hai Phong city has mobilized six fishing boats to coordinate with local authorities and activists to look for the aircraft and crew.
The Vietnamese Naval High Command has set up a command post in the island, supplemented 15 vessels, 500 people including commandoes and other facilities to extend searching area.
Prime Minister Nguyen Xuan Phuc has instructed the National Search and Rescue Steering Committee to intensify efforts to look for CASA-212 together its crew and fighter jet Su-30MK2.
They have been asked to locate their crash and retrieve plane wreckage to determine reasons of the accidents.
A fishing boat has saved one pilot's life on the fighter jet while the remaining pilot's body has also been found by a local fisherman in Nghe An province. The jet crashed during a training flight.
CASA-212 aircraft with nine members abroad lost contact while conducting search operation for the fighter jet on June 16. Its debris was found 29 nautical miles southeast of Bach Long Vi Island on the following day. Destiny of the nine missing crew members have been unclear.
Related articles:
Body of crashed jet pilot taken ashore 
Debris retrieved at sea is from CASA-212