Seawater in the Mekong Delta has penetrated deep into the mainland, according to the Southern Irrigation Science Institute.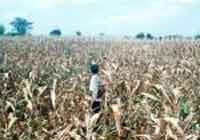 The Mekong delta is facing the most severe drought and salinity in many decades.
Seawater has penetrated upstream in various areas:
37 km from the mouth of the Cua Dai estuary, Loc Thuan commune.
45 km from the mouth of Co Chien, Cung Hau and Tran De estuaries.
50 km from the mouth of Ham Luong, Dinh An estuaries, Phu Khanh commune.
The presence of seawater will affect production and activities in coastal provinces, such as Tien Giang, Ben Tre, Tra Vinh and Soc Trang.
According to the Southern Hydro-Meteorology Center, seawater will become even more a problem, with seawater predicted to flow 50-60 kilometers inland from March to May this year.
Ben Tre Province has been hardest hit by seawater, which has affected thousands of hectares of fruit trees, coconuts and sugarcane, and created a shortage of fresh water.
The provincial Irrigation Department suggested building four dams to prevent salt water entering rice fields, as well as preparing fresh water for drinking and cooking, and watering plants.