Prime Minister Nguyen Tan Dung has hailed public security officials for maintaining national security and social order and contributing to socioeconomic development.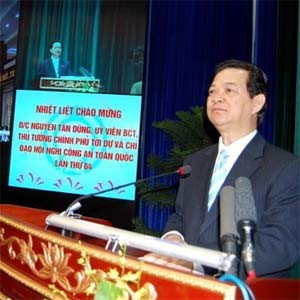 Prime Minister Nguyen Tan Dung addresses the Ministry of Public Security's national conference in HCM City December 22  (Photo: An Ninh Thu Do)
Speaking at a national conference held by the Ministry of Public Security in Ho Chi Minh City December 22, he nevertheless exhorted them to remain on high alert for hostile forces that may take advantage of the grave global economic situation to engage in subversion.
The country has been impacted by the economic recession, with businesses facing difficulties and people's lives being affected, he admitted.  
He called on the ministry to help the Government combat the recession and inflation, stabilize the economy, ensure social security, and maintain sustainable growth.
To continue with its good performance, the ministry should further improve its officials' skills and promote the campaign to study Ho Chi Minh's moral example, he said.