Local border police and related agencies on October 24 were still searching for the remaining survivor of a motorboat accident that occurred on October 23 in the southern province of Binh Phuoc, while bodies of six passengers had been recovered.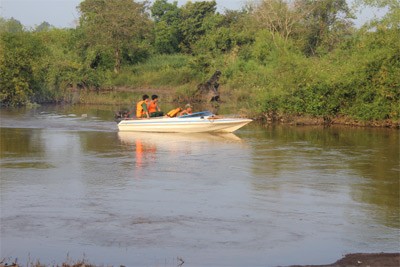 Local police is searchign for the last victim (Photo: Quan Doi Nhan Dan)
According to initial information, 40 local residents of Loc An Commune of Loc Ninh District in Binh Phuoc Province left their hometown for Cambodia for business.
The boat was carrying 40 workers who returned after one day working along the Mang River, but the motorboat overturned when it was about 50 meters from the riverbank.
The accident was allegedly caused by the deteriorated condition of the boat and the river's raging torrent. Of the 40 workers, 33 survived by clinging on to tree branches along the riverbank and managed to swim ashore while seven people were swept away.
In related news, a collision occurred between two ships approximately two nautical miles northeast off the coast of Quang Ngai, announced the Da Nang Coastal Radio Station. The collision occurred between Dai Loc Ship and BD 96 443 Ship of Binh Dinh Province at 4.30 on October 24. Three of seven fishermen were rescued while four are still reported missing.