Saigon Giai Phong Newspaper on Monday collaborated with the Export-Import Bank (Eximbank) to offer 50 scholarships for students, who are children of officers, soldiers working at Navy Command of regions 3 and 4.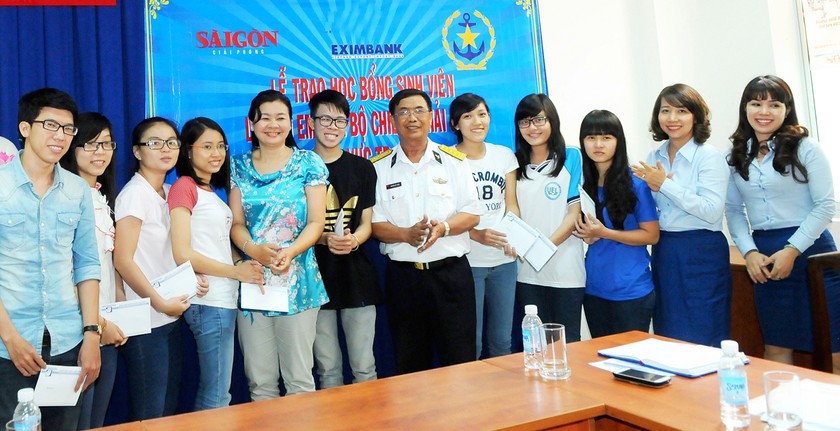 Vice Editor in Chief of Saigon Giai Phong Newspaper Ly Viet Trung (R) offered scholarships for students on June 9 (Photo:SGGP)
The scholarship offering ceremony was held at SGGP office with the attendance of Vice Editor in Chief of Saigon Giai Phong Newspaper Ms. Ly Viet Trung, Colonel Nguyen Hai Trieu from the Standing Committee of the Political Bureau in South Vietnam, representatives of Eximbank and students from universities in Ho Chi Minh City.
The total scholarship is worth at VND 150 million sponsored by the Eximbank.
On behalf of students, Hoang Thi Linh Chi, a student from University of Economics of Ho Chi Minh City, thanked Sai Gon Giai Phong Newspaper, Eximbank for the valuable scholarships.
Over the past half year, the newspaper offered around 300 scholarships for children of Navy officers, soldiers and fishermen working across the country.
The program has received a positive response as well as support from many enterprises, students, teachers in the city to help poor students.
At the ceremony, SGGP Vice editor -in -chief Ly Viet Trung and Colonel Nguyen Hai Trieu encouraged students to effort and get more achievements in their study.
Vice editor in chief Trung thanked Eximbank's support for the program as well as hoped that the bank will continue to accompany with Sai Gon Giai Phong in programs toward Vietnam's Sea Island.
The scholarship was raised last year by Sai Gon Giai Phong Newspaper and Vietnam Navy High Command, aiming to help children of Vietnamese Navy officers, soldiers.