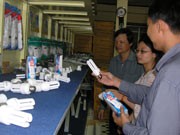 Consumers choose compact lights to save electricity
The "Electricity Saving Education Competition", in response to the government appeal on electricity saving, was launched by the Electricity of Viet Nam Corporation (EVN). Out of nearly 300 articles published by media across the country, over 50 were selected and granted prizes.
The Electricity of Viet Nam Corporation (EVN) on April 22 gave two first prizes to Nhan Dan newspaper (People Newspaper) and Viet Nam Television. SGGP newspaper received two seconds, three thirds  and one collective prize for a team having the most articles in the competition.
Good results have come from the articles on the education of electricity saving, according to EVN. In the first quarter of 2006, consumption of electricity in the administrative bodies decreased by 2.5 % year-on-year, by 20% in more than 10 per cent of offices. People also save electricity by using compact lights instead of normal bulbs consuming more electricity.