Saigon Giai Phong Newspaper in Ho Chi Minh City and the Red Cross Society in the central province of Quang Binh joined hands to support victims of the recent Storm 'Wutip' that left a trail of destruction across the coastal district of Quang Ninh.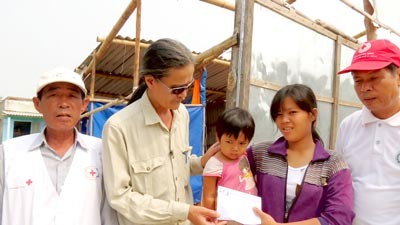 A representative of SGGP newspaper gives money to residents in Hai Ninh Commune in Quang Binh Province (Photo: SGGP)
Staffs from SGGP Newspaper and Red Cross Society visited the worst hit Hai Ninh Commune in Quang Ninh District to give 130 gifts worth VND70 million (US$3,325).
Mai Van Buoi, Chairman of Hai Ninh Commune, said this was the biggest and most devastating storm he has ever seen. Almost all houses in the commune have been totally destroyed.

Hai Ninh has five villages with more than 1,200 households. Buoi said the commune has suffered losses of up to VND96 billion ($4.5 million).
Residents here live on shrimp-breeding but the storm has devastated all the shrimp ponds with breeders facing losses of more than VND30 billion ($1.4 million).

SGGP newspaper is the first unit to work with the local government to share the burden of the people. Ten of the worst affected households received VND1 million each, and 120 other households received VND500,000.

An old woman named Mai Thi Kiet are so moved at receiving VND1 million, and thanked the newspaper profusely for their timely support.