In accordance with the program "Nghia tinh truong son" (Sentimental attachment for Truong Son Road), Sai Gon Giai Phong Newspaper representatives worked on finding a location to build the Truong Son martyr commemorative temple in the northern central province of Quang Binh on June 3.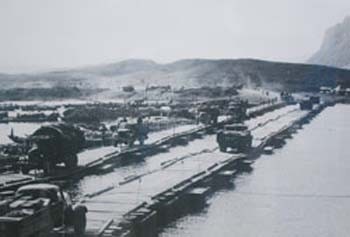 A view of the Long Dai Bridge during the war against the US invaders (File Photo)
Newspaper representatives worked with the province Department of Culture, Sports and Tourism.
According to the department's plan, the temple is expected to be built at the northern end of Long Dai Bridge, next to the Long Dai Ferry along Road 15, which belonged to the Truong Son Road system and was one of the fiercest places during the war against the US invaders.
The Long Dai Ferry was also the place where 31 volunteer youths died from US bombs.
The commemorative temple is an important item in the Long Dai Ferry Historical Relic, which is to include a temple, monument, and bell-tower to be financed by donations from various benefactors.
Construction of the commemorative temple alone is estimated to cost VND10 billion (US$53,000), financed by the Bank for Foreign Trade of Vietnam (Vietcombank) through Nghia Tinh Truong Son program of SGGP.
It is expected that the work will break ground on the occasion of the 65th anniversary of the August Revolution and National Day, September 2.
The same day, SGGP representatives also met with leading military personnel of Ha Tinh and Quang Binh provinces about spending VND1 billion, financed by Phong Phu Textile Company, to build 30 houses of gratitude for war invalids and martyrs' families and offer scholarships for local students.
Accordingly, 30 houses, worth VND30 million each, will be built in the Ha Tinh, Quang Binh and Quang Tri provinces. The remaining money will be used to grant 100 scholarships for students in Nghe An Province.
Leading military personnel of the Ha Tinh and Quang Binh provinces have received the funds and will build the houses this June.