A ceremony was held in Hanoi to encourage sharing family-related duties equally between men and women on the occasion of the 2015 Vietnamese Family Day on June 28.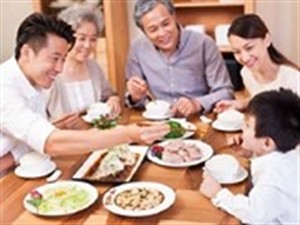 Many husbands now share the burden of household chores with their wives. (Photo: VNA)
The event was jointly organised by United Nations Women (UN Women), the Vietnam Women's Union and the Vietnam Youth Union.
The event took place as part of the UN Women's campaign "HeForShe – the women around us", which aims to actively involve men in the fight for gender equality and the elimination of discrimination against women and girls.
Vice Chairwoman of the Vietnam Women's Union Tran Thi Huong highlighted that many Vietnamese families were unhappy due to gender inequality and domestic violence.
Meanwhile, deputy head of the Government Committee for Ethnic Minority Affairs, Hoang Xuan Luon, spoke highly of the increasing number of men who actively take on family duties, stating that many husbands now share the burden of household chores with their wives.
Shoko Ishikawa, UN Women's Country Representative in Vietnam, highlighted the significance of sharing responsibilities for gender equality, saying that gender equality in practice benefitted men and women alike.
The event included various discussions on the role of men in sharing family responsibilities, with the participation of representatives of the Ministry of Culture, Sports and Tourism, and several artists.
Other activities to mark the day included trade fairs, a photography exhibition, art performances and a cooking competition to bring family members together and promote gender equality.
Family Day has been celebrated annually since 2001.