A man was killed and two others seriously injured when a mortar left from the Viet Nam War exploded in Dak Lak province's Cu Pao village on the Central Highlands on December 20.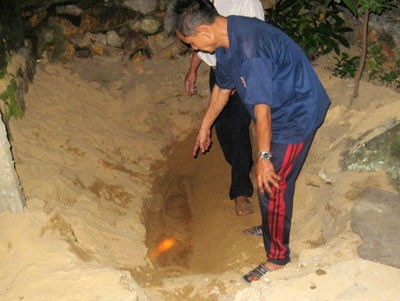 The bomb found in Quang Binh in October. It was later successfully defused.
By yesterday evening, the two injured had gained consciousness but were still in critical condition.
Earlier, Pham Van Luc, 40 years old, brought six mortars he had found to the Bao Tam Mechanical Enterprise and asked its owner Bui Huu Tam, 28 to saw them for explosives and metal scraps.
Five mortars are 105mm and the remaining one 175mm. One exploded while being opened, killing Tam on the spot.
Luc lost one arm and a leg while another standing nearby was serious injured.
Last month, seven people from southern Binh Phuoc province were killed when a scrap collector sawed a 105mm shell.
In October, experts managed to defuse a 1.6m long bomb found a week earlier in a rural village in central Quang Binh province. No one was hurt.
It's been 32 years since the end of the Viet Nam War but countless unexploded ordnance (UXO) remain.
Local scrap collectors often hunt for such UXO and upon finding them, saw them for metal and explosives.
In all, some 40,000 Vietnamese people have been killed by bombs since the war ended.