Le Ke Son, deputy head of the Vietnam Environment Administration, is now compelling the Hyundai Vinashin Shipyard Company (HVS) in central Khanh Hoa Province to follow a strict guideline set by the government to stop the dumping of toxic waste near a residential site.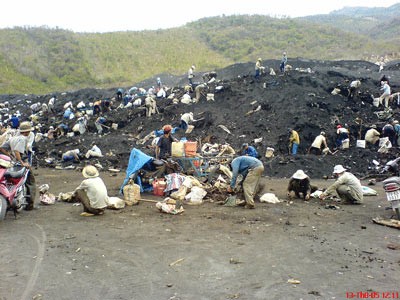 (File) A corner of Ninh Hoa District in the central province of Khanh Hoa, where Hyundai Vinashin Shipyard Co. dumps toxic waste
He told Saigon Giai Phong on March 10 that no further inspection on the case was required as the company was clearly violating all regulations.
Mr. Son said that HVS had continued to dump used nix indiscriminately and has yet to clean up all the previously dumped waste.
HVS had clearly ignored all of the Prime Minister's requests and was also in breach of its commitment to use nix any more, besides also relegating its earlier pledge to clean up its copper slag waste dump in 2010.
He added that the Hanoi Mineral Metallurgy JS Company had not followed on their commitment to construct a nix treatment plant as scheduled.
Mr. Son said that HVS, a joint venture between South Korea's Hyundai Group and the Vietnam Shipbuilding Industry Corporation, has been black listed as a serious environment polluter. They have to be dealt with in all earnestness as per the Prime Minister's decision.
The administration hasn't received any information from the People's Committee or the Department of Natural Resources and Environment of Khanh Hoa Province about HVS transporting copper slag out of its factory to discharge into the dumping ground.
He said that if the committee and the department have allowed HVS to use nix grains it imported in December 2009 or dump used nix into the dumping ground, they too are violators of the government's decision.
The VN Environment Administration intends to report the HVS case to the Ministry of Natural Resources and Environment and the Government to be held accountable for its actions.
Related article:
Shipbuilder continues to dump toxic waste