Several provinces in the Mekong Delta are facing huge losses after shrimps are dying in huge numbers from various infections, with My Long Nam Commune in Cau Ngang District in Tra Vinh Province being the worst hit.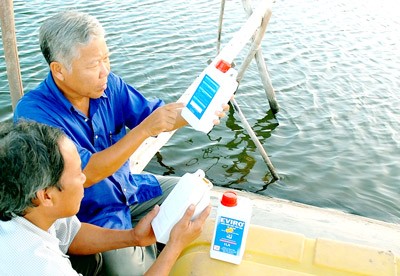 Shrimp breeders in the Mekong Delta suffer losses after using inappropriate chemicals to treat shrimp ponds (Photo: SGGP)
Nguyen Van Ut, a shrimp 'billionaire' in My Long Nam Commune, said he had never been so miserable before. Ut lost 220,000 shrimps, which were less than one–month-old and died suddenly, causing losses of hundreds of millions of dong.
The People's Committee of the commune said that 90 per cent of its 620 hectares of shrimp farm area has lost its shrimp produce.
According to the provincial Department of Agriculture and Rural Development, Tra Cu, Cau Ngang, Duyen Hai and Chau Thanh Districts are left with 4,4000 hectares of dead shrimps.
Bac Lieu Province has so far suffered over 3,440 hectares of dead shrimps. Nguyen Van Canh from Giai Rai District said that the shrimps kept dying and they did not want to continue breeding shrimps.
The phenomenon is spreading at an alarming rate in Soc Trang, Ben Tre and Ca Mau Provinces.
According to experts, the shrimps have died of atrophy of liver and pancreas. The most serious concern is that several households have used toxic chemicals of unclear origins to treat ponds, poisoning their shrimp breeding areas.
Some breeders admitted that if they follow the recommendations of the agricultural industry in using chemicals like Sapnoin and Chlorice to treat their ponds, it will cost up to VND5-6 million per hectare. Whereas it costs only VND300,000-400,000 per hectare if they use other pesticides.