The port of Can Tho is now striving to increase their current processing capacity of 1.5 million tons of cargos per year to 5 million. Progress is being hindered, however, by the rapid deposition of silt on the riverbed reducing water levels in the delta area.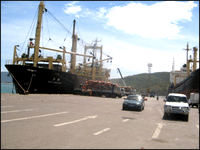 Port of Can Tho
The Sai Gon Giai Phong caught up with Can Tho city Committee Secretary Nguyen Tan Quyen and asked him about the problem.
Reporter: Could you tell me about the operation of the Can Tho Port?
Mr. Nguyen Tan Quyen: Can Tho's port is currently capable of handling 1.5 million tons of cargo per year.

That figure, however, is too small for an international port in the Mekong Delta. Vessels entering the port have to pass through the Dinh An estuary, where the rate of silt deposition is very high. When the tide is low, vessels weighing more than 5 tons cannot, therefore, move in or out of the port.     
Dredging the riverbed costs nearly US$190,000 per year though, and we cannot afford that cost indefinitely.
So if that problem is solved, is a handling capacity of 5 million tons of cargos a year feasible?
If the riverbed at the Dinh An estuary is dredged this year, 5 to 20 ton vessels will be able to enter and leave the port safely, so yes, a capacity of 5 million tons of cargo a year is within our reach.
Furthermore, dredging and widening the waterway will help to sharply reduce the pressure of flood waters in the river's upper and lower reaches, preventing flood-tides which often bring sea water into the Mekong Delta's coastal provinces.

That will also allow fresh water to flow into the provinces of Bac Lieu and Ca Mau via the Nang Mau, Quan Lo and Phuc Hiep canals.
A Singaporean firm said they want to help us, provided they could take the sand after dredging the estuary. I mentioned that to Prime Minister Nguyen Tan Dung and he approved the idea.