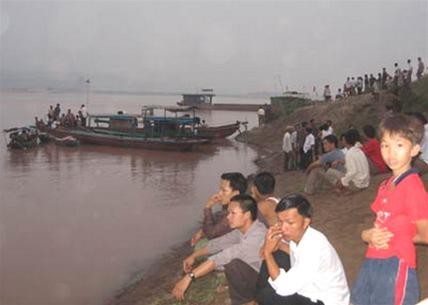 Villagers wait for the return of their relatives near Phu Tho province on Tuesday
Six people died and another 10 have been missing since 2 pm Tuesday after a cargo ship wrecked in the Da River near the middle of Viet Nam's northeastern provinces of Phu Tho and Hoa Binh.
The accident is believed to have been caused by the cargo ship's private owner who violated regulations by overloading passengers and farming products and proceeded to navigate his small ship across the shallow waterway from Phu Tho to Hoa Binh.
The ship completely sank a few minutes after reaching the shallow waterway; which was previously built to ease the strong currents and prevent potential mudslides in the lower reaches of the river,
Among the 23 people aboard the ship, seven were rescued by an emergency crew, 10 remain missing, and six were pronounced dead, assessed local sources. The ship owner, age 28, was amongst the seven survivors and promptly scurried away after landing.
After the accident relevant local organizations began search efforts, but only six bodies have been turned up.
Phu Tho Provincial Government set up a joint investigation group that was dispatched to the accident site that afternoon. Search efforts for the missing people are still going on, said local sources.