The shortage of senior managers and other qualified personnel is more acute in Viet Nam than in any other ASEAN country, according to a recent survey of labor trends in Southeast Asia.
 
The survey by the Japan External Trade Organization also shows Viet Nam is sorely lacking in Japanese-speaking engineers and technicians.
 
Viet Nam's standing in the region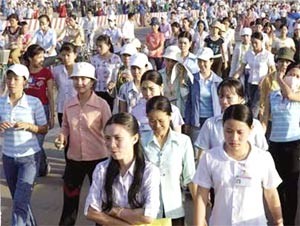 The shortage of skilled labor causes Viet Nam to lose out though it provides an abundant supply of cheap labor
In fact, a shortage of engineers and managers, particularly in design and development, is common throughout the region, in stark contrast to China and India.
 
Half of the Japanese companies in Viet Nam cannot find suitably qualified engineers from the local populace and nearly 60% have only managed to recruit one or two apiece, well under the proportion in other ASEAN nations.
 
What makes recruitment even more difficult is the rising trend of Vietnamese people frequently switching jobs.
 
In information technology, Viet Nam and the Philippines have a clear advantage over the other countries in one respect – low pay – but their software writers and engineers know little or no Japanese and their technical qualifications are often below par.
 
Last year 5,248 Vietnamese people obtained certificates attesting to Japanese language skills from the basic to the advanced level, according to figures supplied by the Japanese Fund.
 
In this respect Viet Nam is at a great disadvantage compared to southern China, where more than 125,000 people can speak Japanese, certainly an inducement for Japanese companies to set up shop there rather than Viet Nam.
 
Another problem is the rising pay in the ASEAN countries, India and China, a trend that looks likely to continue. The problem is that the pressure for higher wages could get out of control and out an end to the advantage of low labor costs compared to the rest of the world.
 
Many companies in Viet Nam are worried about this trend, in fact 85.8% of them according to the Japanese survey, second only to Indonesia.
 
Labor competitiveness
 
With ever more foreign companies coming to Viet Nam to invest, the shortcomings of its workforce are being clearly exposed.
 
Although an abundant supply of cheap labor can temporarily compensate for these shortcomings, in the long term Vietnamese employees will have to face competition from China, Thailand, Indonesia, Malaysia and such.
 
To keep attracting foreign investors, Viet Nam must enhance the competitiveness of its labor force, and sooner rather than later.
 
The Vietnamese government and the relevant agencies need to work more closely with the business community and the vocational schools to create enough suitably skilled people for the requirements of industry, and the factory owners themselves should train more employees on the job.